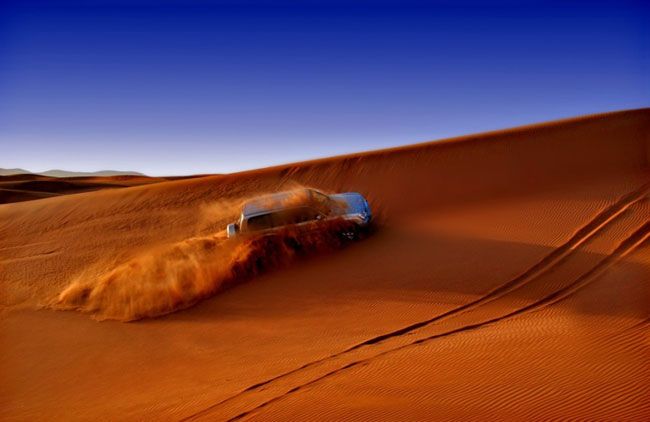 Where is the location of Desert Safari in Abu Dhabi?
It is in Al Khatem on the Abu Dhabi – Al Ain Road which is nearly 45 minutes drive from the city.
Which are the main pick up areas in Abu Dhabi?
It can be a popular landmark like a shopping mall or a hotel within the city limits.
What are the timings to pick up for the Safari tour?
Morning Safari Pick up is between 9 am to 1 pm
Evening Safari Pick up is between 3.30pm to 10 pm
Over Night safari is between 3.30 pm to 9 am next day.
Which are the vehicles using for pick up?
4X4 WD's – Lexus, Toyota Land Cruiser or any other similar vehicle.
How many passengers can be there in a vehicle?
6 passengers excluding the driver.
What is the duration of Dune bashing?
It will be around 30-45 minutes.
Can we go to the camp directly without dune bashing?
It will not be allowed unless all the passengers are ready for that.
Are there any seat belts for the passengers?
Yes. It is compulsory for the passengers to wear seat belts.
Will you allow passengers to bring children?
If they are above 3 years, then passengers can bring them at their own risks.
Does it require any special dress for safari tours?
No.  Any casual dress can be worn which makes you comfortable.

Do you provide baby seats on safari tours?
No. If you have your own baby seat, then you can bring that but it will be charged.
What all details required to book tours?
Date of the safari tour, number of people, Contact person's full name and his nationality, pick up locations and contact number of each passenger.
Is there any special menu for vegetarians?
Yes, vegetarian dishes are there for the main course as well as for snacks.
Do you operate desert safari on all days?
Yes. You can plan it including weekends and public holidays.
Do you provide dune buggy in the camp?
No. But guests can hire small quad bikes for an extra charge of AED 50/ 10 minutes.
Can a passenger bring alcohol?
No,  But we have a bar to serve alcohol from you can buy for extra charges.
What is the arrangement to sleep for the overnight safari passengers?
We provide tents for them to relax and sleep.