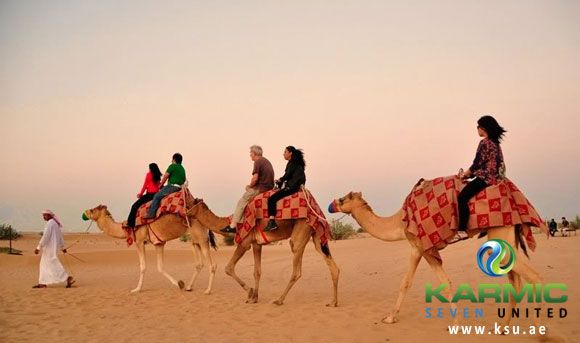 Abu Dhabi Camel Desert Safari is exploring the sites of interest in and around the city of Abu Dhabi, by riding on the back of a camel, the ship of the desert. It is a unique way to explore the deserts. Several tour operators are offering different packages of camel desert safaris depending on the length of the journey. There are packages to Al Ain, the stunning oasis city and Liwa the serene village. You will enjoy the exciting trip through the picturesque Arabian Desert.
Highlights of Abu Dhabi Camel Desert Safari:
 Explore the alluring Al Ain desert by camel
 Enjoy light snacks at Hilton Al Ain Hotel
 Taste authentic Arabic coffee and tea
 From olden days, natives and foreigners crossed the Emirates by camel in their vivid search for new places to live and others to trade with. Discover the Abu Dhabi desert by camel in classic caravan style on this original 2.5 hour journey.
 Renowned for their ability to travel large distances without food and water, in ancient times camels were the main mode of transportation and trading goods and its importance still continues. It is a rare opportunity to gain experience on how the people of the Emirates traveled as you trek across the desert in the city of Al Ain.
 Abu Dhabi desert provides you a rare opportunity to understand these unique and wonderful creatures closely.
 The Abu Dhabi camel desert safari begins at 15:00 and ends at 17:30.
Included:
 Transportation
 Camel Ride
 Coffee
 Tea
Additional Information:
 Bring proper clothing, plenty of sunscreen and a hat.