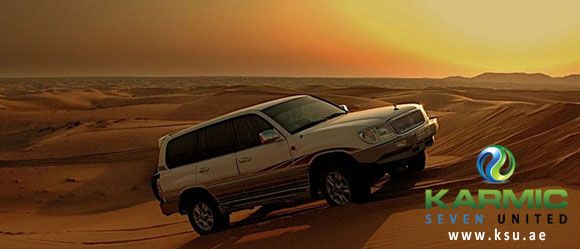 Abu Dhabi Evening Desert Safari & Dinner Under the Stars
Abu Dhabi Evening Desert Safari is a fabulous journey across the meandering sands of Abu Dhabi in the evening that is accompanied with adventure, thrill, fun and entertainment. In the five hour evening desert safari you can explore the wild face of Abu Dhabi's unique culture and tradition. The package of the desert safari includes a trip to the sand dunes, a desert sunset and a ride on a camel. You can also enjoy an Arabian BBQ and an entertainment show in Abu Dhabi Bedouin camp.

Highlights of Evening Abu Dhabi Desert Safari :
 Take a wild and exciting ride over the sand dunes
 Visit a camel farm and ride one across the sand
 Watch the sun set over the open landscape
 Try out the traditional Arabic Shisha
 Feast on an authentic Arabic BBQ
Come and join in an evening of adventure different from any other on this 5-hour excursion to the desert of Abu Dhabi. By afternoon, leave the city and head towards the desert to discover the true ambiance of Abu Dhabi. Go for an exciting drive over the sand dunes, visit a camel farm and watch the sunset from the dunes.
Take a journey to the traditional Arabic camp, where you will get the opportunity to try different activities like henna painting and belly dancing. Also, try Shisha, the traditional Arabic smoking pipe, as well as savor sample Arabic sweets and coffee significant to Bedouin culture.
Next comes the BBQ dinner under the starlit sky, with some live Arabian entertainment to ensure it's a night to remember. Sit back and experience what Arabic hospitality means, with Arabic coffee and dates served as they have been for centuries, which still continues to be served in Emirati homes.

Evening Abu Dhabi Desert Safari Included:
 Dune drive
 Camel riding
 Sand skiing
 BBQ dinner
 Belly dance show
 Shisha—a traditional Arabic smoking pipe
Not included:
 Gratuities
Additional Information:
  Adult and child rates include pick-up and drop off to Abu Dhabi hotels only.