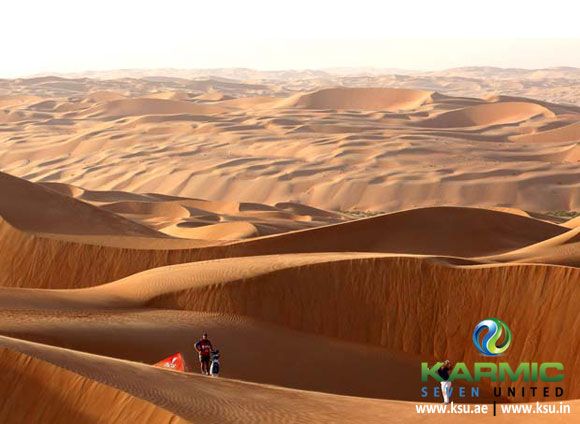 Liwa Desert Safari is an amazing trip through Liwa, the largest oasis in Abu Dhabi which is located on the outskirts of Rub Al Khali, also known as The Empty Quarter, which is the largest sand desert in the world. It is the best choice for an amazing experience amidst the rolling sands of Liwa desert. Liwa desert safari will provide you with the amazing dune bashing experience in a four wheeler. You also have an opportunity to discover saddle rock, ancient fossil rocks and camel rocks.
To explain about Liwa Desert Safari, it happens in the outskirts of the Rub Al Khali (Empty Quarter), the biggest sand desert in the world that stretches between Saudi Arabia, Yemen, Oman and the UAE. It is the home of some of the challenging sand dunes in the Middle East. Here you can travel for days without coming across any man made objects or inhabited hamlet other then wandering herds of camels.
Liwa is spectacular and dunes raise high as skyscrapers. It is definitely a great destination which can deliver ultimate desert safari adventure and that can remain in memory for ever. The whole desert is located on the outskirts of Rub Al Khalil (The Great Empty Quarter) which captures the Arabian heritage.
There are dunes which rise to 300 metres in the long sprawling sand valleys that has all elements to deliver adrenalin rising desert adventure experience that is often termed as "white water rafting of the desert". The color of the sand is constantly changing from gold to red and is impressively striking at the beginning and end of the day.
The departing time of tour is at 9 am. You will be taken to Liwa in 4WD air conditioned vehicle, the landscape transforms and sand dunes emerge before you. On reaching the desert, it is time for the exciting adventure, get ready for it. It will be a never-before-experienced ride and it will be handled by an experienced driver. Also you will be capturing the essence of Arabian heritage in this trip. Lunch would be at the Oasis. After lunch you will head towards Moreeb sand dune which is one of the highest sand dunes in the world reaching up to 300 metres.
After a full day of adventure rides and taking a look into the fresh water pools and palm groves illustrating Bedouin life – pre oil era, the journey back to Abu Dhabi starts.