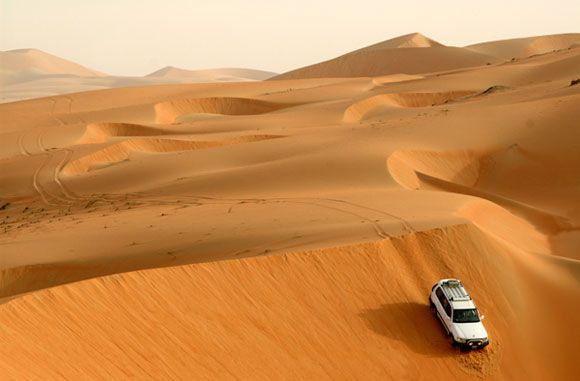 Overnight Liwa Desert Safari is a journey to explore the desert area of Liwa, which is situated in the entrance of Rub Al Khali or the Empty Quarter, during night. A desert safari is the best way to enjoy and appreciate the vastness and beauty of the Liwa area. A delightful experience is waiting just for you with the rolling sand dunes of the untouched desert in the Arabian Peninsula.
The Liwa area is located on the outskirts of Rub ak Khali (Empty Quarter) which is the biggest sand desert in the world that extends between Saudi Arabia, Yemen, Oman and the UAE for a hundred and thousand square mile. The overnight stay is something interesting because you can drive miles in this desert without coming across any manmade objects or inhabited areas other then herds of camels wandering here and there.
The tour starts with an extraordinary roller coaster drive in the desert sliding over the spectacular dunes. In between these activities you can pause for some time to click snaps and peep at the camel farm to understand its functioning. Then you can start towards the camp to witness a memorable sunset.
Back in camp a traditional welcome awaits you with Arabic coffee tea and dates. Meanwhile charcoal fire is lit to prepare tea and evening dinner. For some time you can relax in the Arabic tent that is well-furnished with carpets and pillows. Take time and chill out in the camp fire. Try going for henna tattoo or go for a camel ride until it is time for the highlight of the evening that is the exotic belly dancing to the tunes of rhythmic music of Arabia.
After the performance starts the delicious three course barbeque dinner with variety of meats and salads served under the star lit skies with Arabic music in the background. After this it is the retreat back to the city.
Schedule: 15:00 Hrs to 21:30 Hrs
1530 Hrs : Pick-up by 4 wheel drives from the city and drive to meeting point.
1630 Hrs : Convoy departs to Fossil Rock (Sand Dunes) and embarks on dune bashing
1700 Hrs : Dune bashing, photo stop in the dunes
1745 Hrs : Drive to desert camp.
1815 Hrs : Traditional welcome at camp with tea, coffee & soft drinks.
1830 Hrs : Camel rides, henna sessions and Arabic Sheesha
1930 Hrs : Belly Dance Session
2030 Hrs : Barbeque Dinner
2130 Hrs : Drop off to Hotel